Bamboo nature anti- uv character (different from the man-made additive) is quite healthy and appreciated in the damaged environment today. Please refer to the following report
With modern industrial development, the atmospheric ozone constantly undermined, leading to increased surface ultraviolet radiation. Its great drama of human skin can cause harm.The UVa, UVB-band feed melanin generation, resulting in cerebral cortex aging, and even cause cataracts, skin cancer and other ailments. Therefore, in the ultraviolet increasingly high demand products. Bamboo fiber with the character of anti UV, antibacterial character is quite appreciated by all the customers.
ANTI-UV TEST: TESTING CENTER.
Testing authority: GB/T18830-2002, UV. The effect was very pronounced anti - ultraviolet; users are very satisfied with that.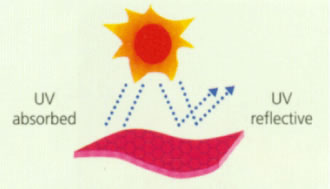 Refers to the launch of solar ultraviolet wavelength of the electromagnetic wave 250-800nm. Product characteristics  Superior UV shelter chracter
Look at the following fine results   
Fabric samples(same color, same count...),
Bamboo fabric(100% bamboo) : the UVcan not even get through.
Cotton fabric (100% cotton): the UV can get through.